Windows 10: Should DASNR care?
Categories: End Users Information Upgrades
As you might have heard by now Microsoft is releasing their newest version of Windows on July 29th, 2015. This version is called Windows 10. For the most part Windows 10 doesn't look much different from Windows 7 or 8.x. Microsoft has reworked its core operating system and made improvements to its overall performance.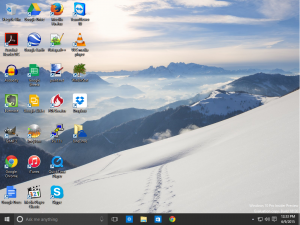 Here is a list of some things that are different:
New "Start" Menu. – The start menu returns after taking a break in Windows 8.x. However, this start menu is a little different from the version in Win7. Windows 10 keeps the list of programs from Win7 and adds the live tiles from Win8.x. To be honest, it is just a condensed version of the Win8.x start menu rather than the Win7 start menu.
Multi-Desktops – Those who use OSX and Linux machines will recognize this new feature. Multi-Desktops allows you to have different programs opened on different "desktops" to help keep things organized. One desktop can have Facebook, Spotfiy, and other leisure programs open, while another desktop can have Excel, Word, and other work related programs open.
Cortana – Named after the AI companion from the Halo Franchise, Cortana is Microsoft's answer to Apple's Siri. First released for Windows Phones in 2014, Cortana will make it's jump to desktop machines starting with Windows 10. Right now, Cortana is tied to the Bing search engine, and it still remains to be seen if it will give Siri a run for it's money.
Microsoft Edge – Code named Spartan, Microsoft Edge is a new web browser that will replace Internet Explorer. I haven't had a chance to play around with it too much, so we have not tested its compatibility with our web based apps. Both Chrome and Firefox will be available in Windows 10 as well. You can see more about Edge here.
Program Capability – Based upon our limited testing, most of the programs we use on a daily basis should work within Windows 10. If your program runs in Windows 7 or 8.1, it should run in Windows 10.
Now how do we get Windows 10? Well, Microsoft has made it pretty easy…
Some of you may have noticed the Windows logo in your taskbar.

Clicking on the icon initiates a window that provides an introduction titled "Get Windows 10."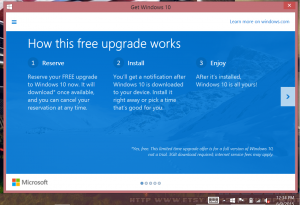 This is legitimate! Microsoft announced earlier this year that they are making Windows 10 free to Windows 7 and 8.x users for up to one year after the release date. This means that if you have purchased a computer with 7/8.x you can upgrade to Windows 10 at no cost. Otherwise you will have to pay retail price for it after July 29th, 2016. So by going through this signup, you can reserve your copy of Windows 10 and upgrade when it is released. However, this icon, so far, has only appeared on Home, Premium, Pro, and Ultimate versions. If you are running the Enterprise versions of any of the Windows OS, you will not see this. Which leads me to this:
At this time we have no plans to switch to Windows 10 until July 1, 2016. After July 1, any new machines ordered will get Windows 10. This will give a one year roll out for Microsoft to make sure nothing is broke, and it will allow us to minimize the fragmentation of the OS's across DASNR. It will let developers make sure their programs work correctly.
With that said, all users who have a Microsoft Surface Pro running a Professional version of Microsoft may upgrade to Windows 10 on your own. However, there might be some issues at first. Just as with former new versions of the Microsoft operating system (Windows), we cannot guarantee that everything will run out of the box and without the loss of data.
Hopefully, over the next few months we will have more blog posts that go into a more depth on Windows 10. So stay tuned. If you have any questions or concerns please contact your Support Specialist.
P.S. If you are wondering what happened to Windows 9. It's because seven ate nine.