Welcome to Spotlight on DASNR!
Welcome to Spotlight on DASNR. This is the place to engage directly with our dedicated, passionate, award-winning specialists, faculty, staff and leadership. Consider this your engraved invitation to connect with us on everything from happenings in the vice president's office to the latest cutting-edge research. So, what are you waiting for? Come on, join the conversation … we look forward to hearing from you.
Featured Authors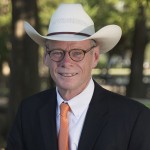 Thomas G. Coon is the vice president, dean and director of DASNR at OSU. He joined the Cowboy family from Michigan State University, where he was a professor and director of Extension. Dr. Coon has a passion for teaching and learning. Through his blog, Reflections from Ag Hall, he will share the division's contributions to the land-grant mission as well as the accomplishments of faculty, staff and students.
[Click here to read Dr. Coon's blog, Reflections from Ag Hall.]
Featured Posts
Coming Soon!