Multi-Factor Authentication
Categories: Uncategorized

What is Multi-factor Authentication (MFA) and why do I need it?
MFA enhances the traditional user ID/password combination that has been used for years. Using MFA increases account security by requiring a user to provide multiple forms of identification, like something you know (a password) and something you have (such as a mobile device). Because both are required for a successful login, this protects an account by reducing the likelihood of an attacker successfully logging in. The attacker would need to know the user's password and have access to a physical device that provides the secondary factor in order to complete a successful logon.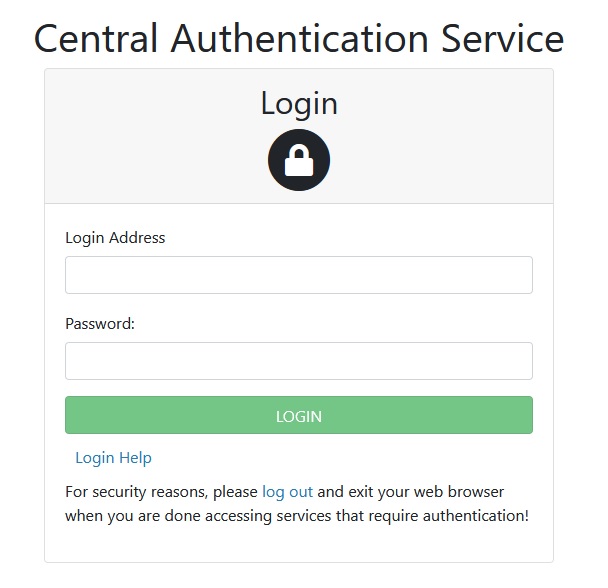 All applications that use the Central Authentication Service (CAS) will be required to use MFA. If your application logon looks like the picture to the right, you will be required to implement MFA according to the following dates. If you have already implemented MFA, you can disregard this email.
When will MFA be required?
Employees (Non-student) Sept. 16, 2020 by 5 p.m.
Retirees Sept. 16, 2020 by 5 p.m.
Students Oct. 16, 2020 by 5 p.m. – Communications forthcoming
Graduates Oct. 16, 2020 by 5 p.m. – Communications forthcoming
The first campus-wide communication was sent in November 2019. Information Technology Coordinators have been communicating on a regular basis to their users asking for voluntary participation.
FAQ
Why is Multi-factor Authentication (MFA) important to OSU?
Securing OSU's computing environment is more important now than ever. Historically, one of the most often used methods to compromise computer systems is through individual's user ID's and passwords.
How do I get started?
A user can log into the OSU Duo portal using their O-Key username and password. Once they log in they are able to sign up for Duo, add a new device, or manage existing devices.

Where is Multi-factor Authentication (MFA) available?

Campuses
Oklahoma State University Stillwater
Oklahoma State University Institute of Technology (Okmulgee)
Oklahoma State University Tulsa
Oklahoma State University OKC
Connors State College
Langston University
Northeastern Oklahoma A&M College
Oklahoma Panhandle State University
Roles
Faculty
Staff
Students *
Associates
Alumni
*Accounts for people who have applied to any of the campuses but are not accepted are not covered under the license.
FAQ Continued

                                                                                  
Need Help?
    Contact the OSU IT Helpdesk
    Phone: 405-744-HELP(4357)
    Fax: 405-744-7861
    Toll Free: 1-877-951-4836 (calls cannot be transferred)
    Email: helpdesk@okstate.edu
    Location: 421 Classroom Building
    Walk-in hours are M-F 8 AM to 5 PM.
Resource URLs:
* https://it.okstate.edu/services/multi-factor-authentication/index.html
* https://it.okstate.edu/services/multi-factor-authentication/how-do-i-obtain-a-hardware-passcode-fob-for-use-with-multifactor-authentication.html
* https://it.okstate.edu/services/multi-factor-authentication/what-are-my-options-if-i-do-not-have-a-landline-device-and-my-mobile-device-cannot-connect-to-osu-network.html