Microsoft Teams
Categories: Howtos Information Instruction Office 365
Overview
Microsoft Teams is a cloud-based communications platform and part of the Office 365 suite. Teams provides a project group with many tools: a conversation and chat space, video meetings, and file storage. As part of Oklahoma State's Microsoft license, Teams is free to use as an employee of OSU.
Features
MS (Microsoft) Teams offers you the ability to have a group chat, online meetings, calling and web conferencing, thereby allowing your team to more effectively communicate.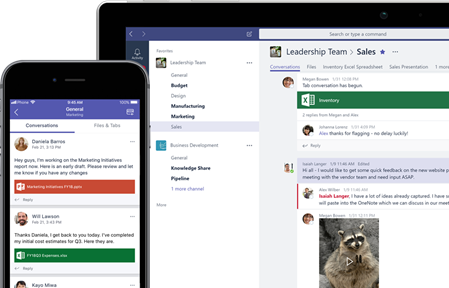 In Teams you can work together by collaborating on files with built-in Office 365 apps like Word, Excel, PowerPoint, and SharePoint. You can customize your workspace by adding in your favorite Microsoft Apps and third-party services such as OneDrive.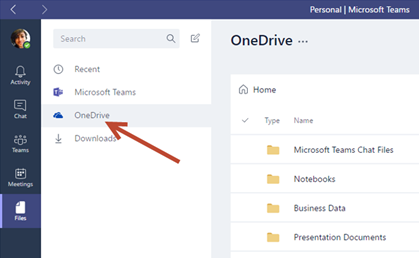 Administrators of the team can control membership and manage team information and security by clicking on ellipses (next to the team name):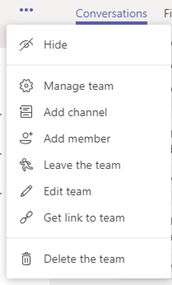 If you are interested in learning more about Microsoft's hub for teamwork in Office 365, visit https://products.office.com/en-us/microsoft-teams/group-chat-software .
FAQs
Q: Is Microsoft Teams Free to use as an Employee at OSU?
A: Yes, Microsoft Teams is free to use as an Employee of OSU.
Q: How do I access Microsoft Teams?
A: The main ways to access Microsoft Teams is either through the Desktop standalone App, via the web, or through the Mobile App. Shown below are basic instructions:
Accessing Microsoft Teams – Standalone App
1. Start Teams.
In Windows, click Start > Microsoft Corporation > Microsoft Teams.
On Mac, go to the Applications folder and click Microsoft Teams.
On mobile, tap the Teams icon.
2. Sign in with your Office 365 username and password.
Accessing Microsoft Teams – via the Web
1. Open a web browser (such as Microsoft Internet Explorer, Microsoft Edge, Mozilla Firefox, Google Chrome, Apple Safari, etc.) and visit Cowboy Mail (cowboymail.okstate.edu)
2. Log in using your OSU credentials.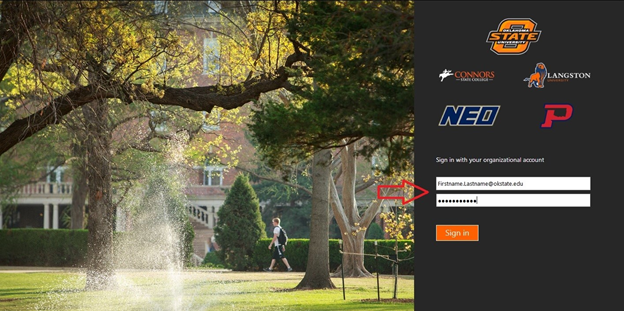 3. Once in CowboyMail, Click on "Apps" menu. The Apps Menu is the blue square with nine (9) white dots, located in the top left hand corner.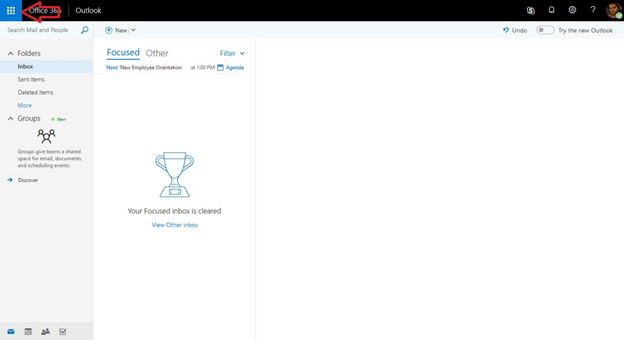 4. Once the Apps menu has opened, click on Teams.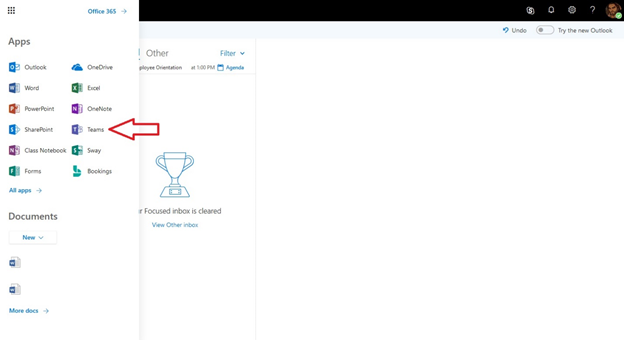 5. From here, you will be redirected to Microsoft Teams. You will see team names for those teams to which you have access.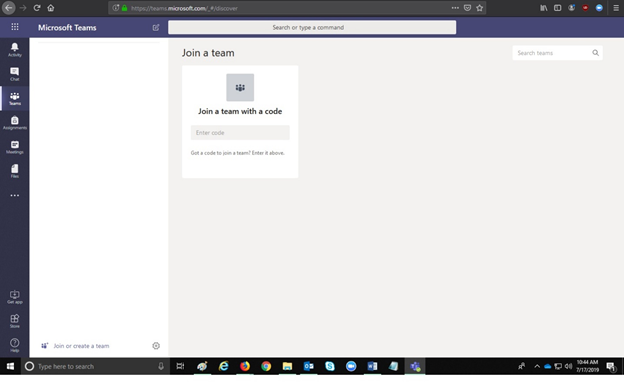 *NOTE* If you have previously logged into Microsoft Teams, and are attempting to log in again; you may be required to sign in using your OSU Credentials once again.
Accessing Microsoft Teams – Mobile App
Go to the App store on your mobile device (Apple App Store, or Google Play Store)
Search for Microsoft Teams
Once the Microsoft Teams App has been downloaded and installed; Log in using your
OSU Credentials.
Q: How do I setup a 'team'?
A: Listed below are the detailed instructions on how to setup a 'team'.
Login to https://okey.okstate.edu.
From the left-hand navigation, select "Microsoft Groups":
Select "Create a new group as an employee".
Complete the form then click "Create Group". After approximately one business day, the group is created and the team is available in Microsoft Teams.