Office365 – OneDrive for Business (Windows)
Categories: Information Instruction Introductions Office 365 Upgrades
Office 365 allows you to save Word documents, PowerPoint presentations, Excel spreadsheets and Publisher publications to the your OneDrive for accessibility from all of your devices. OneDrive works similarly to Google Drive or Dropbox by allowing you to sync and add folders on your computer. To enable syncing of OneDrive Business, follow these step by step instructions:
1. From 'All Programs' select Microsoft Office 2013 (2010) and click "OneDrive for Business".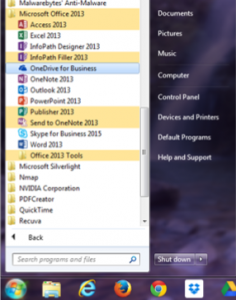 2. To access which library to sync, login to cowboymail.okstate.edu using your OKEY Credentials
3. Once logged in, click on the tab in the upper left corner and then click on 'OneDrive'. This will provide the URL you need to tell it what library to sync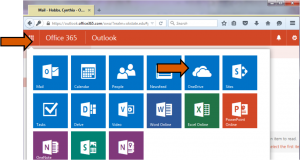 4. Copy and Paste the URL from the OneDrive web app and click "Sync Now"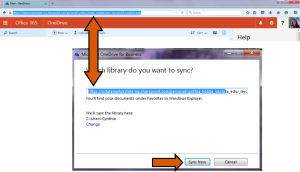 5. Type your Okey Email Address and click 'Next'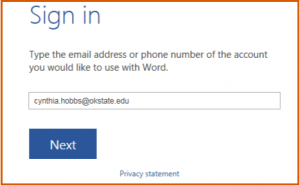 6. Select 'Work account' and enter your OKEY password and click 'Sign In'. It should be noted that OneDrive for Business and OneDrive are not the same as OneDrive for Business is associated with your OSU employee accounts and uses your OKEY email address and password.
7. The syncing process might take a few minutes. When prompted, click "Show my files…"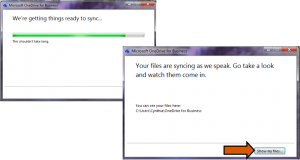 8. OneDrive for Business should appear in your Favorites and you may begin adding files and folders to begin syncing to your computer.
Note: There is a known issue that prevents OneDrive from syncing. Microsoft has an update on their support site that is supposed to solve this error. The link is: https://support.microsoft.com/en-us/kb/298621
If OneDrive is not found in All Programs, click here for instructions to installing it on your computer.
For more information, please see the F.A.Q section at the bottom of the OSU Mailbox Conversion post from November 4th.