Office 365; What is it and why should I care?
Categories: Office 365
Over the next three months, Oklahoma State University will be slowly moving all of the faculty, administration and staff from Microsoft Exchange to Microsoft Office 365 (O365). As of November 1st, DASNR has already began the migration and hopes to have everybody moved over by the end of the month. So what does it mean and how does it affect you?
O365 is a subscription based service that Microsoft offers for both personal and business use. This service provides Microsoft Office apps and email as a cloud-based service: you can access Word, Excel, Powerpoint, etc using an internet browser. This access is similar to Google Mail, Docs, Sheets, and Slides. O365 also allows you access to the offline versions of those programs as well (if you do not already have access via the Office 20xx suite). For the most part, you will not notice too much of a difference in your daily activities. You will, however, gain both functionality and access to mobile and web versions of the office apps. In this post I will discuss some highlights of the conversion and O365.
Most of the mailbox conversion is transparent and will not be noticed. However, this transparency hides some really big changes and the way email is managed. Due to this shift from Exchange to O365 you will see two main differences.
Mailbox Size
By default, OSU currently allocates 500MB of storage for email (1GB for faculty). You can request a larger mailbox but it has to be approved at several administrative levels. With O365 you will now start out with 50GB of data!

This mailbox quota increase should help eliminate those hours spent trying to get your inbox under control! Of course, this does not mean you should not practice proper mailbox management.
Mail.okstate.edu
If you are using the webmail to check email, you typically go to mail.okstate.edu. Once the migration is complete, you will no longer use mail.okstate.edu, but cowboymail.okstate.edu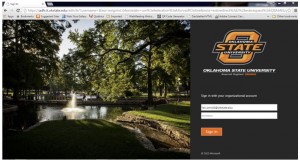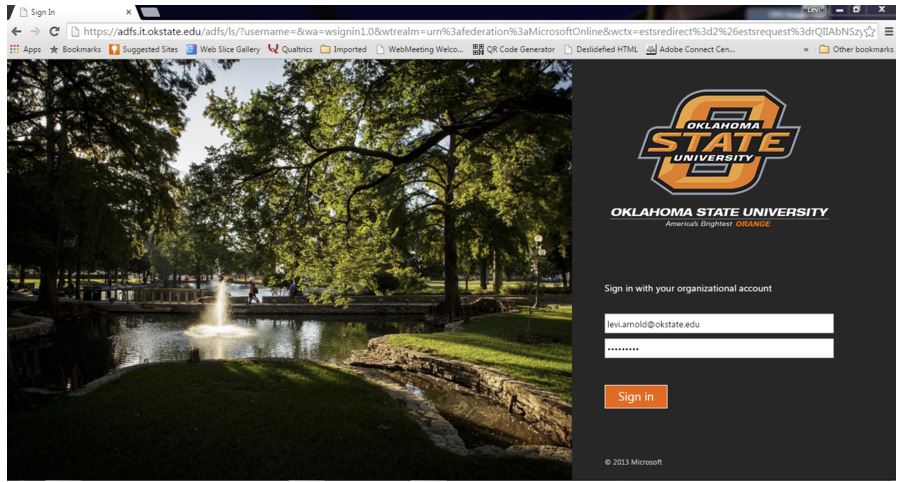 You will see a similar screen to the one above. Logging into the site with your OKEY credentials will take you to outlook.com which is, basically, a web version of the desktop program.  There will be some updates to your Desktop versions of Outlook with the migration, you can see those changes here for Windows and here for OSX.
What about all the cool things you get with Office 365?!
As I mentioned earlier, you get web versions of some of the office programs. You can access those by going to https://login.microsoftonline.com
If you have previously used your OSU email to setup a Microsoft account, you may get something like the previous screenshot. In this case, select "Work or School Account" which redirects you an OSU login site. After entering your OKEY credentials you will see the O365 homepage: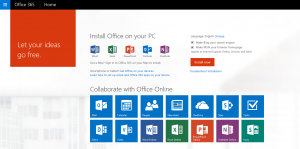 You can ignore the "Install Office on your PC" if you already have Office 2010/2011/2013/2016 installed; if not, contact your Support Specialist to schedule time for them to install it.
Let's briefly go over each app…
These are the web version of the Office Suite. I hope most of these are self explanatory. You can save your documents to OneDrive which allows you to access them across devices.
The following programs may be new to you.

OneDrive – This is a cloud based storage similar to Google Drive, Dropbox, etc. You get 50GBs of space. You can use the OneDrive app to sync seamlessly between your devices. OSX users: the OSX app is the personal version of O365 and not for our OKState account; you will have to use the web interface.

Sway – A new online presentation tool that you can use to create reports and presentations. You can learn more about Sway here 

Delve – An app to allow you to connect with co-workers and documents you have access too. To learn more, click here.

Sites – A program similar to Sharepoint that allows you to easily collaborate on projects with others in your group. As of right now, I do not know if there are plans to fully utilize this program.

Newsfeed – Allows you to see public conversations among your co-workers or any other updates to documents you may be collaborating on. As of right now, I do not know if there are plans to fully utilize this program.

Videos – Here you can upload, share, and view videos that the organization has shared. As you see there is already a video on there about Banner.
As we move forward with O365, it will be interesting to see how OSU uses Videos, Sites, Delve, and Newsfeed. I feel Sway will be a good supplement to Powerpoint.