Office 365 Mobile Apps
Categories: Office 365
With Office 365 (O365) mobile apps suite you no longer have to figure out a way to open, edit, and save your documents on your phones or tablets! No longer do you have to pay for a separate set of apps. Those who are part of the OKState community are also O365 subscribers and we can download the app suite onto five different devices. Installing of the apps is pretty straight forward. Open up the Apple or Google Play store on your device and search for Office 365, or you can click on the following links:
Once you have downloaded the app to your device, you will need to set it up. The following overview shows the steps I took to setup Word for Android on my phone. It is the same process for the other apps as well as for the iOS versions.
Opening up the app on my phone I am greeted by the loading screen, which turns into a the setup screen. Here I am given two options. "Sign In" or "Sign up for Free." Since we already have an O365 we will click "Sign In"
I enter my OSU email address. Similar to the browser  version, I select "Work Account"
Once it finishes the configuration and setup, you will be greeted with the following screen: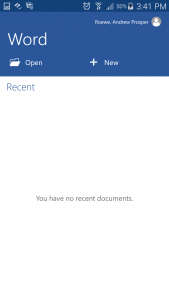 You will notices it is empty as I have not opened any documents or loaded anything to my OneDrive.
And that is it – very straightforward! If you have any questions or issues, please contact your support specialist. One thing to note, Outlook and the OneDrive app appear to have slightly different setups and will be covered in subsequent blog posts.