Stay Safe with Cyber Security Awareness
Categories: Uncategorized
October is National Cyber Security Awareness Month. While it is not October yet, security awareness is not something that you can only think about one time or one month of a year. There are threats that happen every single day and if you are not cautious or careful you might fall victim to one of these scams. Recently, there have been several articles in the news warning of a few specific threats.
The Better Business Bureau (BBB) recently published an article warning of a scam involving the 5 Mile Color Race (a race for awareness and to raise funds for various charities.) This warning is based on people setting up fake color races and charging people entry fees costing around $45. Then when people show up to the race there is no one there. They also have received many complaints of color races canceling at the last minute and not offering refunds. There are many color runs that are legitimate, however it is always good to check out the company that is holding the color run. The BBB has the following tips for protecting yourself against these scams:
Do your research on the company to be sure they are legitimate.
Understand the terms and conditions of the race agreement before accepting the contract, as some may clearly say no refunds.
Check the local venue to be sure the race is scheduled.
Pay with a credit card, which allows you to dispute charges if the race ends up not being real.
Keep documentation of your order for future reference.
Check out the charity to be sure that they are a real charity and you are not giving money to an untrustworthy source.
The Norman, OK police department recently posted a warning about a Facebook scam that was circling around Mother's day. This scam (image below) uses peer pressure to get you to post very specific information about your children. While this information has no immediate negative impact on your life, meaning that you are not going to lose money immediately after posting this information, it could have a very large impact down the road. When you post personal information about yourself, your children, or your immediate family, that information can be used to steal your identity or possibly gain access to your online accounts. Most online accounts use security questions based on friends, family, pets, or information from when you were a child. It is very important to keep this information private and not post it on social media where almost anyone can access it.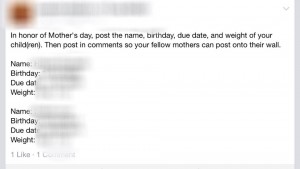 We face many threats on a daily basis. The best thing you can do is to be cautious when providing any personal information or when signing up for a service or event. Ask yourself these following questions: Why do they need this information? Does this sound too good to be true? Do I really want everyone to know this information about me and my family? If any of these questions cause concern, check into the situation for more information before proceeding.