Ordering a New Computer
Categories: End Users Information Upgrades
Purchasing a new computer can be an exciting thing, especially for someone using a computer that is slow, not working right or is quite honestly a dinosaur.
Recently I have received several requests for quotes for new computers. In each case, the person requesting the quote has simply requested "a quote for a new computer". While we almost always include some standard features, such as amount of memory, length of warranty, operating system, and installed software, it is often helpful to have an idea of what the user's needs are including budget considerations, type of computer (laptop, desktop) and any accessories they want. Here is an idea of what information to include in a quote request to better help your support specialist find the best computer for your needs.
The first question that needs to be answered is what kind of computer you are looking at purchasing, whether a desktop computer, a laptop to replace the desktop so that you can take your computer everywhere you go, or a laptop that will be used for presentations and meetings. The typical request is for a desktop computer. Desktop computers come in a variety of sizes and can be adjusted to your work environment. That said, in most cases, a mini-tower is preferred because it offers a wider range of possibilities for upgrading memory and hard-drive storage space. However, a small form factor can save on desk space and still offer a few spaces for upgrades. In most cases, the smaller model size will cost a little bit more than going with the mini-tower option.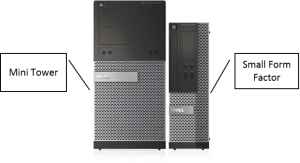 When requesting a laptop, it is helpful to have an idea of what the laptop is going to be used for. For some, it is a secondary computer used for meetings and presentations. The user may not have a need for a lot of storage space but wants to have a portable device they can easily travel with. If this is the case, often the size and weight are of significant importance. Consider a 12 inch, 14 inch or 15 inch screen when considering the size. A standard laptop is around 14 inches and can weigh 3-5 pounds.
The other option is a desktop-replacement laptop, meaning the laptop becomes the user's primary computer. When looking at this possibility, it is important the specs are similar to that of a desktop computer with plenty of memory and storage on the hard drive as well as a good processor. These are places that are we can cut corners and save some money when looking at a laptop for presenting, but not a place to cut costs when using it as the main computer.
If you are considering a desktop-replacement laptop, a common accessory is a docking station. By connecting the docking station and the laptop, you have access to more USB ports, additional monitors, keyboards and mice, as well as network connection. Most importantly, it make it easy to disconnect your laptop when you get ready to take it on the road.
It is also helpful to have an idea of the budget you have in mind. Recently, I quoted a new computer for less than $1200. This computer included an i7 processor, 16GB of memory, a hard drive with 500GB of storage, a 4 year warranty and a 22 inch monitor. However, if $1200 is too much, alterations can be made to the configuration to help match the individual's needs such as removing the monitor or reducing the amount of memory.
Another thing to consider is accessories, like a new mouse or keyboard. Most come with this option, but perhaps you want to upgrade to a wireless or ergonomic keyboard and mouse. A new monitor is also something to consider. If you are wanting a larger screen, or the option of dual monitors, adding a new monitor to the list of "wants" is a good idea. However, if you already have two large monitors, having that option added may not be of much use.
As the fiscal year is coming to a close, upgrading your computer is a great place to spend excess money. If you are interested in purchasing a new computer, contact your Support Specialist. Our goal is to find you a great computer that still fits within your budget.
Cynthia Hobbs
DASNR IT