A Week in Someone Else's Shoes.
Categories: Howtos Introductions
I don't know about you, but it seems like every time I stop, someone is telling me what new tablet I should be using. Android? iOS? Windows? Which one should I get? Sadly, I can't help you decide. I can, however, tell you about my experience with a Google Nexus 7 tablet.
The Nexus 7 is a 7″ "wide screen" tablet. The picture below shows it in comparison to a standard size iPad (8.9″). The device is much lighter than the iPad and has a rubberized back cover to help you keep a grip on it. The Nexus has two sizes for storage (16GB and 32GB), but (like the iPad) it doesn't have a slot for a memory card.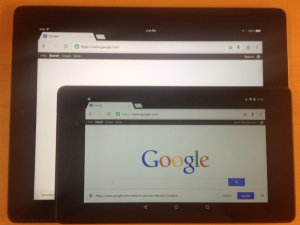 The Nexus 7 is an Android based tablet.  When I unpacked the tablet I plugged it in and allowed it to charge up overnight.  After that I powered on the tablet and was greeted with a request to sign in with a Gmail account, create a new Gmail account, or skip this step.  After logging into the tablet, I was notified that there were some updates available.  The device was a 2013 model, so this wasn't entirely unexpected.  I followed the on screen directions and the tablet proceeded smoothly through the update process.  At the end of the process the device had updated itself to Android v5.0.2.
By this time I was tired of the keyboard click sounds, so I decided to turn that off. Unfortunately that's not as straight forward as it might seem. Part of the strength of the Android platform is the ability to configure things in more detail. The flip side of that is that sometimes you have to hunt a bit to find the configuration setting you're after. I used the following instructions to turn things off: https://support.google.com/nexus/answer/2819577?hl=en.
After that, I decided to go ahead and set up a few applications I knew I'd want to use, try out, or are just generally popular. It's not a short list.
Google Gmail
Google Contacts
Google Calendar
Google Chrome
Google Office-based apps (Docs, Sheets, and Slides)
Google Drive
Google Maps
Google Earth
Google Hangouts
Google Analytics
Firefox Browser
Dropbox
Evernote
Skitch
Instapaper
Feedly
Pocket
Twitter
Facebook
Wikipedia
Coursera
Skype
YouTube
Mesonet
The Weather Channel
Instagram
IFTTT
Netflix
Amazon Shopping
Amazon Music
Amazon Kindle Reader
Spotify
Pandora
Duolingo
Flickr
Trello
Simplenote
IMDB
Microsoft Word (Viewer)
Microsoft Excel (Viewer)
Microsoft PowerPoint (Viewer)
Microsoft One Note
Microsoft One Drive
Microsoft Lync
Pinterest
With a few exceptions and some minor differences all of these apps work in a very similar fashion to their sibling apps on other mobile operating systems.
One of the problems I have with my (admittedly older) iPad is that charging is slow. We're talking "overnight to get to 100%" slow. Surprisingly, this tablet charges fully in about 2-3 hours. The only reason I initially charged it overnight was because I went home before I was ready to work with it. I can go about 6-8 hours of moderately intense use without needing a charge, which typically means I can actually use it all weekend and not have to worry about charging. Things that are busy or visually intense, such as action games or video playback, probably shorten that somewhat, so I would expect less stamina if I were watching Netflix or something similar.
All in all, the device is a nice fit for me, not too large or heavy, and yet bigger than the screen on my phone. For me, it's a more comfortable format for reading emails, articles and ebooks, and other 'light' tasks. I probably wouldn't try to write an in-depth article on it, but for paragraph length responses I think it would be fine.