Demo/Training Site Construction: Week 3 and 4
Categories: Uncategorized
Week three:
On week three, we focused on preparing for the tank and plumbing installation that will happen on Week 4. The wooden covers for the above-ground trench mock-ups were constructed. The soil that would be used in the trench mock-ups were collected, oven-dried and sieved. A few buckets of Class A gravel (0.5 to 2.5 inches) were also washed and oven dried. Thanks to Dana Raun and Austin Lucas for preparing the soil and gravel.
The signs we ordered also arrived in week three (from the OSU Sign Shop). They look good! They are made of polymetal and could stand extended, rough outdoor conditions.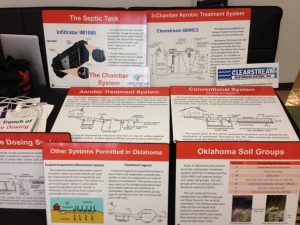 Signs for the OSU Sign Shop.
Week 4
The forcast for Friday is "Sunny until 2 PM". Because we have absolute confidence in the forecast, we went ahead with the plan of installing the tanks and the plumbing at the site. James Lasquites and myself started at 7 AM to make sure that we finish the installation of the trench mock-ups early. We were just starting when we noticed  rain clouds (and lightning). We were hoping that they would move east before hitting Stillwater…. but it didn't. This started one messy, muddy day!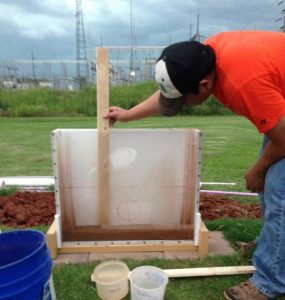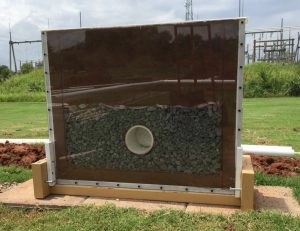 Preparing the trench mock-ups. Notice the rain clouds.
We have to pause for an hour because of the rain. The rain filled the excavations (dug the day before) with water but we have to proceed with the installation because two concrete tanks were already at the site (from Hausner's Inc). They have to be installed on the same day. After pumping water out of the excavations, Tim Stanley fixed the walls to make them ready for the tanks.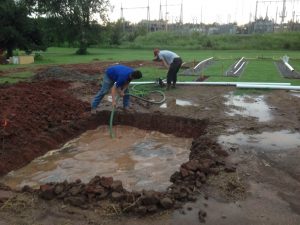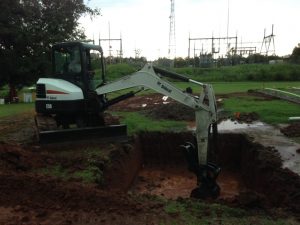 The crew of Aerobic Systems of Stillwater in action
The holes were ready and the Hausner's delivery guy (Richard -an Army veteran) went into action. He was such a pro!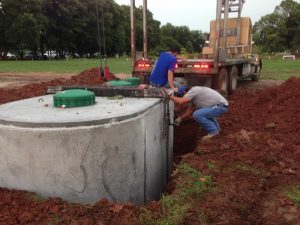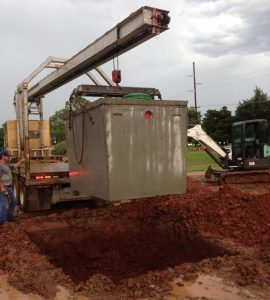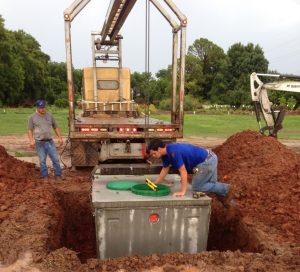 Action involved in the installation of two tanks at the site.
Hausner's delivered and installed two tanks today: A 3-Compartment Areobic Treatment Unit (ATU -Donated by Clearstream Water Systems Inc.) and another tank for the Low Pressure Dosing (LPD) System.
The dispersal system for the ATU system (Spray Heads and Drip Lines) were then installed. The lateral lines for the LPD and Conventional Systems were also installed.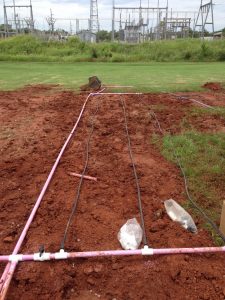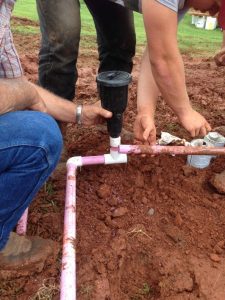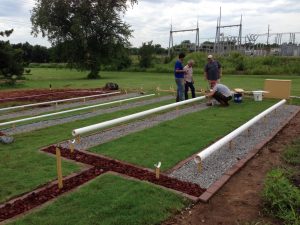 Drip lines, spray heads and lateral lines were installed.
After four hours of battling muddy conditions, we accomplished what we had planned for the day.
May thanks to Lonnie Welch of Clearstream (who is also an Army-Airborne veteran) for his technical advise today!Lonnie drove from Texas to help us. Thanks also to Clearstream and Hausner' s for donating the three-chamber Clearstream 600NC3. (http://www.clearstreamsystems.com ; http://www.hausners.com)
If the weather permits, more earth-working will be done next week (Week 5). We also would will install all the trench mock-ups. We might also lay more sod.