Week 5 – Onsite Demo Construction
Week 5 was about making the systems operational and dealing with cosmetic stuffs at the site. Like always, I had a ton of help.
Tim Stanley leveled the site and completed the installation of the Aerobic Treatment System and the Low Pressure Dosing System. These systems are now ready to be plugged to a power outlet.
James Lasquites helped me last Tuesday to complete the construction of the above-ground mock-ups.
Above-ground mock-ups of trenches of the Chamber system, ET/Absorption System, Pressure Dosing System and the Conventional Systems were completed. We made wooden covers to protect them from the elements (it held up against the windy and stormy weather this week).
We also scored our first TV segment featuring the Demo Facility. Lyndall Stout of SUNUP TV interviewed me at the site. The 4-minute TV segment will air this Saturday.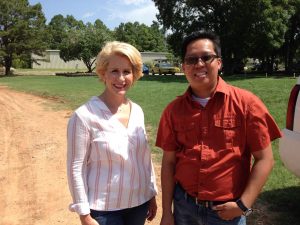 With TV host Lyndall Stout after the interview.
On Thursday, I gathered my crew of grad students and high school student workers to deal with cosmetic stuffs – mowing and trimming the grass, laying more sod and lining-up bricks.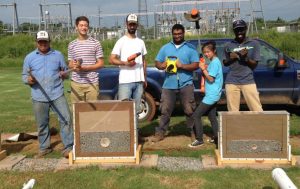 My crew posing like Super Heroes with hand tools. We got to make this fun for them. After all… they are helping us for free.
Next week, Tim will place more gravel and pack the soil around the tanks. When I come back from a trip, we will install the various signage. Steve Murdock of Infiltrator systems  (Infiltratorwater.com) will then help us install the Septic Tank donated by their company. We will also request to have our own water line installed at the site.
After all of these, all that's left is planning the "ribbon-cutting" event and then we'll start using the facility for extension classes in August and September.