The Oklahoma Onsite Wastewater Training Facility: Week 1
Categories: Uncategorized
It's a good week for the Onsite Wastewater Treatment System (OWTS) industry in Oklahoma. Our State will finally have its own OWTS demonstration/training facility! We got the approval to set it up at the location that we wanted and we immediately started working.
The location:
We decided to set-up the demonstration facility at the OSU Botanic Garden. The area is smaller than what was initially allocated to us at the Agronomy Farm (original proposed site) but the new location comes with a lot of advantages. It is only less than a hundred yards from the Botanic Garden Educational Center which would be very convenient when we conduct extension classes. Also, the Botanic Garden is visited by thousands of people every year which opens up the likelihood of exposing our display to a bigger and wider audience. But the biggest advantage is that, the new location could provide our trainees/visitors with possibilities for further learning. Meaning, people who would come to visit our demonstration/training facility would also have the opportunity to learn from other displays at the Botanic Garden which include: ornamental plants, landscaping designs, herb gardens, garden irrigation technologies, urban runoff management, the Mesonet, and even turf-related research trials.
Thanks to Dr. Lou Anella for helping us get settled and to the Department of Horticulture for allowing us to have a home within the Botanic Garden.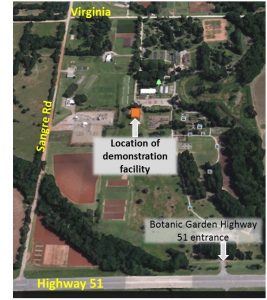 Bird's eye view of the general location of the demonstration site.
Week 1 Activities:
Week 1 was about getting started. We started hauling materials that we needed like sand, gravel and stones. Thanks to the Soil Fertility Group for letting use their truck to transport materials.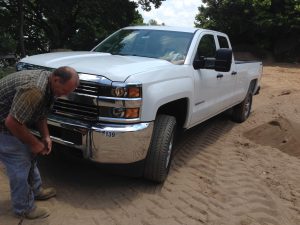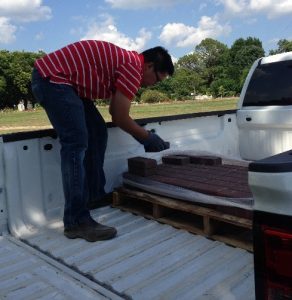 I did manage to get the pick-up truck stuck while hauling sand (truck had to be pulled by a backhoe). We picked a not-so-good day to start hauling materials – it was 105 degrees that day.
We also started constructing the subsurface trench mock-ups. This was a bit tricky because I have very, very limited carpentry skills (I should have paid attention when my dad was trying to teach me carpentry a few decades ago). But thanks to some graduate student help, we finished the job with all my fingers in place.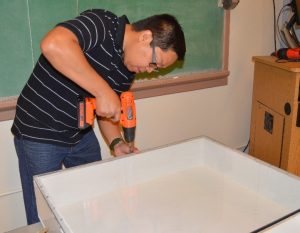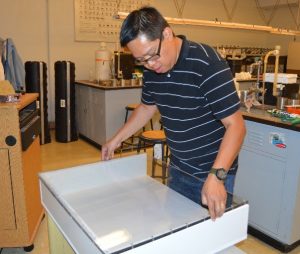 Construction of mock-ups of the sub-surface trench of various systems (using flat PVC and polycarbonate). When finished, these will be above-ground representations of what trenches look like at the subsurface.
We also commissioned Mr. Tim Stanley, an experienced OWTS installer in Stillwater, Oklahoma to help us with the project. Tim leveled the area for us in week 1. This gave us the opportunity to start working on the above-ground representation of the lateral lines. Couldn't have done this without James Lasquites (PhD student).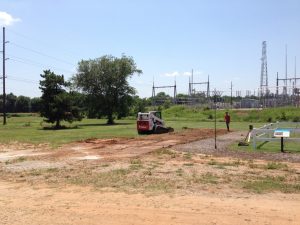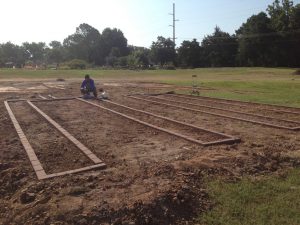 Tim Stanley  (in Bobcat) leveling the site and James Lasquites arranging the stones for the above-ground representation of the lateral lines.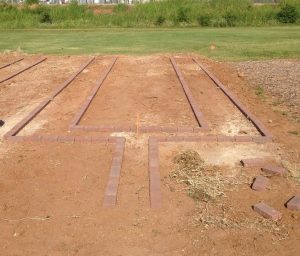 Final product for week 1: Ready to be added with Class A gravel and installation of the PVC pipes (above-ground) in week 2.