Setting OneDrive to work with Office 2013 (Windows)
Office 365 allows you to save Word documents, PowerPoint presentations, Excel spreadsheets and Publisher publications to the your OneDrive for accessibility from all of your devices. To do this, simply sign in to your OneDrive from within one of the Office 2013 applications (such as Word) using your OKEY credentials.
It should be noted that OneDrive for Business and OneDrive are not the same. OneDrive for Business is associated with your OSU employee accounts and uses your OKEY email address and password.
From within Publisher, PowerPoint, Word, Excel or Outlook, click on "File" in the upper right corner of the ribbon

Select 'Account' and then click 'Sign In' and follow the steps in Office365- OneDrive for Business (Windows) for syncing your OneDrive library steps 2-6.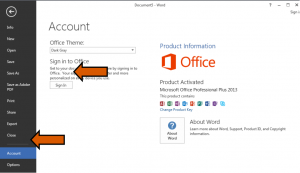 You are now signed into Office.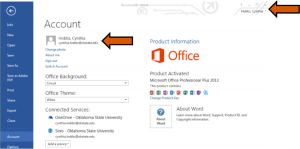 From here, you can add a photo, adjust the Office Background and Theme and more. You may also notice the "Connected Services" include 'OneDrive'.
To save a document in OneDrive go to File> Save As> Select 'OneDrive-Oklahoma State University> and Click Browse. Finally, name the file and click "Save". The document will be available on all the devices you have enabled OneDrive on (up to 5) as well as the Cowboymail.okstate.edu web app.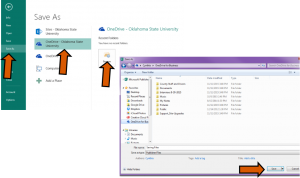 To access OneDrive from the web app, go to cowboymail.okstate.edu, click on the tab in the upper left corner and select OneDrive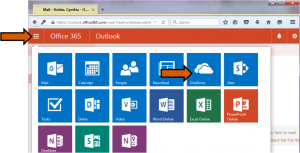 You may also install OneDrive and the Office 365 apps for your Android and Apple devices by accessing the App or GooglePlay Stores. The University license is currently available to install on up to 5 devices. For more information on Office 365 Apps, click here.
For more information, please see the F.A.Q section at the bottom of the OSU Mailbox Conversion post from November 4th.