Week 2 of the Construction: The Oklahoma Onsite Wastewater Training Facility:
We are into week 2 of our construction. "Construction" really sounds weird to me because none of us who are involved in the project have any construction experience. It is a crew of four soil scientists and two high school student workers.  But we got the job done! (and it was fund too).
We worked two days this week. We had to start at 7 AM to finish the day's targets before it becomes unbearably hot.
The fertility group again provided awesome help this week. Four grad students from the group (Bruno, Daniel, Jagman and James) and two of their student workers (Dana and Austin) helped in the project. We could never have gone this far in two weeks without them. Thanks to Dr. Bill Raun for the support.
Erich Wehrenberg of the Agronomy Farm was also so kind to deliver three bucket loads of soil to the site which we used to further level the area. Bart Frie of the Botanic Garden operated his forklift to move 500 sq.ft. (1 ton) of sod for us.
This week, we hauled the gravel and the sod, we further leveled the site, laid gravel on the "above-ground trenches", we laid the concrete slabs that will serve as platform for the trench mock-ups, established the stakes that will support the PVC pipes (lateral lines) and we laid sod. A lot of work but working with young people while listening to the Dave Matthews Band and Eric Clapton was really fun.
Below are this week's pictures.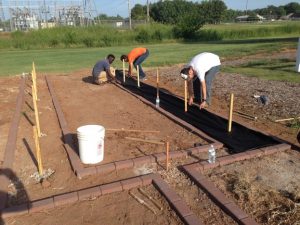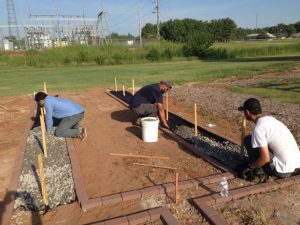 James, Austin, Jagman and Bruno laying the weed-prevention fabric and filling the "trenches" with Class A gravel.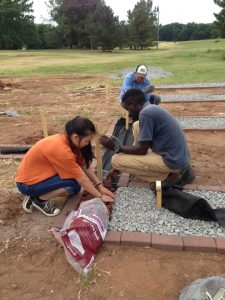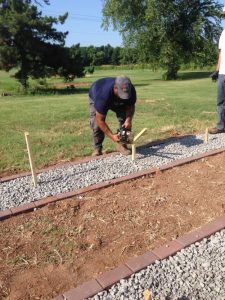 James and Daniel marking leveled points on the stakes while Dana is laying the red Lava Rock. Jagman is cutting the stakes at the leveled points (he had a lot of fun with the Chainsaw!)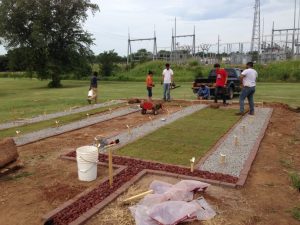 Everyone helping with the sod.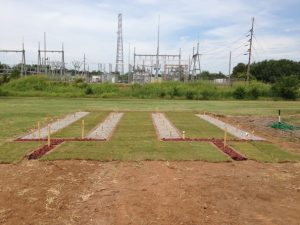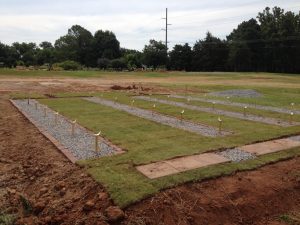 End of week two final product. It needs to be watered daily in the next two weeks to ensure that the grass will successfully establish.
Tim Stanley (the installer whom we commissioned to do parts of the project) will takeover next week. He will start installing the tanks and the pipes.