Microsoft Office 365: Online Archive and importing items from local archive
Office 365 Online Archive
It is hard to believe that it has been 2 years since our email system changed to Microsoft Office 365. While we have seen our fair share of problems with Office 365, the benefits have completely outweighed any of the issues we ran across. Moving from 500 Megabytes (MB) of storage space to 1 Terabyte (TB) per account has been a great asset to us all. Because of this change in storage space, we are no longer required to archive our emails on a regular basis to ensure we continue receiving email. When we switched to Office 365, the old archive settings were removed from our accounts because they were no longer required.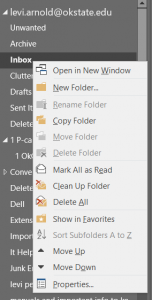 Office 365 includes an upgraded version of the old archive system we used before. The new online archive saves your email to the cloud instead of saving them to your computer's hard drive and includes an additional 50 -100 Gigabytes (GB) of storage.) In addition, the archive can be accessed from anywhere and on any device with internet access, by using cowboymail.okstate.edu. The online archive is disabled by default; however, you can change the settings to enable the archive. The following guide will show you have to adjust the archive settings.
In Microsoft Outlook, right click on the folder you would like to archive. (In this example, I will use the inbox.)
Select the Properties button.
Change to the Policy tab at the top of the Properties window.
Use the drop-down list under Online Archive to change the archive settings for the folder.
Moving items from a local archive to Online Archive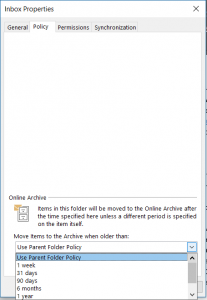 If you have an old archive folder in your Outlook, you should consider moving the files to the Online Archive. The following directions will help you move the files. (Note: Moving files from an archive to the Online Archive will take a while and may lock Outlook up for several minutes. If this happens, be patient and do not close Outlook until it is completed.)
How to move folders
Right-click on the folder in your archive and choose move folder.
In the Move Folder window, scroll to the Online Archive option and select the location you would like the folder to be placed. (If you want the folder in the root of the Online Archive, select Online Archive – "Your Email Address".)
Click OK.
How to move individual files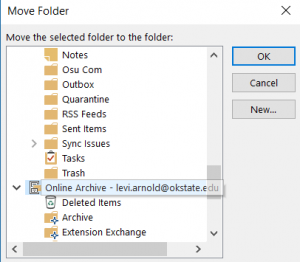 Open the old archive folder containing items you would like to move.
Select the emails to be moved (Control A will select all the emails in the folder.)
Right-click one of the emails to be moved, select move, and then choose other folder.
Navigate to the correct folder and select OK.