A "New" MS Word Tool
I learned of a new Microsoft Office tool the other day!
I am taking an online class that focuses on business computer concepts and applications. In the class, I get to work my way through various Office modules. I will be honest, it can be a bit tedious, BUT I have already found a handful of new tricks. Perhaps, some of them I knew and had forgotten over time. However, this one was new for me so I thought I would share.
Do you have certain words you struggle to spell? For me, it does not matter what I do, I cannot spell the word 'inconvenience'. Well, the trick I learned will help me with this struggle as I can add my spelling for the word to the Proofing option and anytime I spell inconvenience wrong, it will automatically correct it.
To adjust this setting simply click on File and go to Options.

Then select 'Proofing' followed by "AutoCorrect Options…"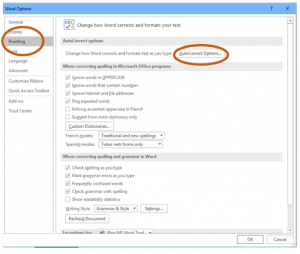 Finally, type the how you usually spell your word you struggle with under 'Replace' and 'With' and now anytime you mistype this word, it will automatically replace the text as you type! Personally, I think this is a pretty neat tool!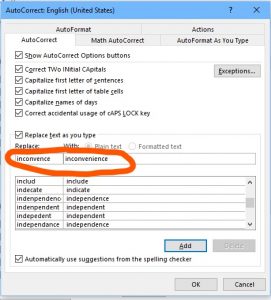 Check back over the next semester and I'll add more little tips and tricks I pick up along the way!
~Cynthia