Reusing Adobe Connect Recordings in Adobe Connect
Adobe Connect is a great tool for online collaboration and has become a standard tool across DASNR, allowing for many to attend meetings, in-services and training's without having to use funds from their travel budget. However, there may be features yet to be discovered
I discovered a new feature the other day when I was asked to monitor a training session. Basic request, right? It became challenging when the presenters needed to use a segment of a previously recorded Adobe Connect session due to an absent co-presenter. At first, I didn't think this was possible but I began searching for information anyway. After some digging, I discovered it was possible and was able to successfully use the recording in a live Adobe Connect session. These are the steps I took to make it happen.
First, access the Adobe Connect recording you wish to reuse. It should be noted, if you were not a Host of the original session, you will need to request permissions from the original Host. Once you have located the recording, select "Make Offline." This will open the recording with a series of setting selections. I used the default settings. After you select "Proceed with Offline Recording" you will be able to save the file to your computer.
The saving process will take the duration of the original recording if you want to save all of it. Also, if you only want to save a segment, you cannot skip to that part. However, you can stop the recording once you have what you want. To stop and save, simply click "Stop and Save" in the lower right corner of the screen. Then click "OK" on the pop up.
You are now ready to insert the video into a new Adobe Connect session. This can be done the same way you load a PowerPoint. Simply click "Share My Screen, navigate to the MP4 file you are wishing to use and you are ready to go!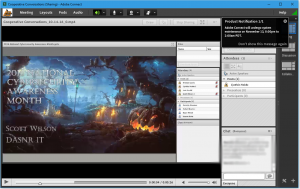 ~Cynthia Hobbs