Microsoft Clutter: What is it and Other Frequently Asked Questions
You may have noticed a new item in Outlook: a folder named Clutter. Clutter is a new feature we received when OSU converted to Office 365 and has some nice features for managing our email. The following questions and answers may help answer some of the questions you have about Clutter.
What does it do?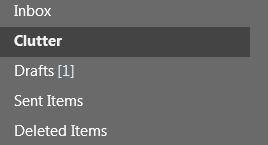 Clutter filters email it believes are low priority into the Clutter folder in your mailbox. It has the ability to learn from your actions with specific emails. You also have the option to directly influence what it considers as low priority by either sending emails to or out of the Clutter folder (more information below).
Can I select specific emails to be sent to Clutter?
Yes, simply right click on the emails that you would like to send to Clutter and choose "Move to Clutter". Over time it will remember which emails you are sending there and start doing it automatically.
How do I prevent specific emails from going into Clutter?
If you have email going to Clutter that should not be, there is a way to stop this from happening. Simply select the email in your Clutter folder, right click on the specific email, and choose "Send to Inbox". Clutter will learn from your actions and should stop sending emails of that type to your Clutter folder.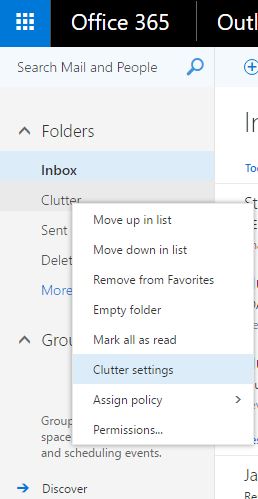 Can I turn Clutter off?
Yes, it is possible to turn the sorting function of Clutter off. You will first need to login to your email through the cowboymail.okstate.edu interface. Right click on your Clutter folder and choose Clutter settings. Deselect the first checkbox, and then select save from the top of the window. This will stop Clutter from sorting your mail items.
Can I delete the Clutter folder?
No, the Clutter folder cannot be deleted. You can turn the sorting feature off, but deleting the specific folder is not possible. If the folder is in your way, simply click and drag the folder down in your folder navigation.
For more information on Microsoft Office or other IT related questions see our website Support.dasnr.okstate.edu