Preserving Your Data – National Cybersecurity Awareness Month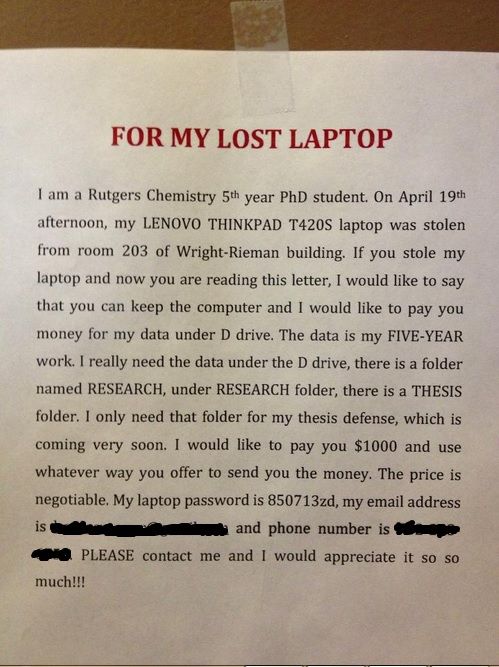 As illustrated here, sudden and irreversible data loss can be devastating. Whether due to theft, hardware failure, or good old-fashioned human error, the costs in time and money resulting from a catastrophic data loss can be staggering and can even have legal ramifications. The real tragedy around these losses is that they are almost always preventable with a little bit of time and research. If this student from the picture above had even the most rudimentary of backup, for example his/her data copied on an external drive, they would only have lost a laptop instead of having lost years of research and writing.
There are two types of computer users: Those who've lost their data, and those who will.
So what constitutes a backup? In the simplest of terms a backup is a copy of your data on a different device. Ideally you will have multiple backups in multiple locations so that a single event (fire, flood, theft) doesn't affect all of your backup media. Internet cloud-based solutions are a great way to backup your data and frees you from having to manage a physical backup medium (hard drive, DVD, flash drive, file server).
How do you backup data? You could just copy and paste your important files manually to another medium every day. This, while better than nothing, is still a far cry from an ideal solution. Ideally you will have a solution in place that automatically saves your data on a regular basis. It should automatically save your data to an external hard drive, a second computer, or to a cloud storage service. Thankfully setting up an automatic backup has never been easier as there are more programs and cloud-based backup solutions available now than ever before. Many even have easy to follow guides on setting them up, making getting started a tad less intimidating.
No one ever wants to back up, but everyone wants to restore their data after a loss.
Nothing lasts forever, and this is especially true in the realm of data storage. Whatever medium you use to store your data will eventually fail and unless you have backups, your work documents, tax forms, family photos, and collection of cat pictures will be gone. This is why it is vitally important to take some time to setup a backup system for your data. Below are several links to excellent sources on the many backup utilities available along with reviews on their features and ease of use.
Life Hacker's Five Best Online Services:
http://lifehacker.com/five-best-online-backup-services-1006345049
Further reading on backups:
http://lifehacker.com/theres-no-excuse-for-not-backing-up-your-computer-do-1547987206
https://www.schneier.com/blog/archives/2014/09/security_trade-_2.html
http://lifehacker.com/tag/backup-utilities